Wall Cladding
Cladding is the application of one material over another to provide a skin or layer. In construction, cladding is used to provide a degree of thermal insulation and weather resistance, and to improve the appearance of buildings.

Low maintenance : Extremely low maintenance due to its durability and easy cleaning features.
Internal insulation : External cladding can help to improve the thermal insulation of a property.
Protection and Safeguard : External cladding is a great addition to your property as it acts as an extra layer of protection against weathering and corrosion.

Use of Wall Cladding
Give Your Walls A Life.
- Exterior & Interior

- Garden Area

- Decoration Purposes

- Swimming Pool Area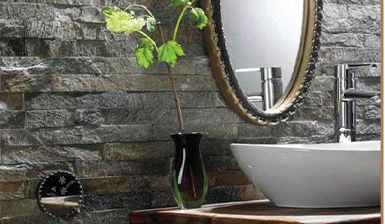 Specifications
Get the Finest Wall Cladding
Types of Wall Cladding Materials :
1. Brick Wall Cladding
2. Wood Wall Cladding
3. Metal Wall Cladding
4. Stone Wall Cladding

Stones Available In Colors :
Black, Brown, Green, White, and more